Join us to celebrate Irelands national holiday Saint Patricks Day at the Hobgoblin Roppongi in conjunction with the Tokyo Vegan Meetup Group, Tokyo Vegetarian Meetup and the Raw Foodists and Vegans of Tokyo Meetup.
If you can wear something Green that would be great.
We will be serving a 100% vegan buffet with an Irish theme.
Details
Price per person is 2800 yen and we will have some special drink discounts on offer for the evening.
Some examples of the menu will be
Potato & Leek Soup
Shepherds Pie
Irish Stew
Colcannon (potato & cabbage)
Soda Bread
Mushroom Stuffed Cabbage with Tomato Sauce
Baked Beans
Steamed Spring Vegetables
Salad Station (make your own)
Oatmeal Apple Crumble with whipped Cream
Chocolate Stout Cake
Food will be served promptly from 7:30pm until 9:30pm.
Thank you for helping us support the Vegan & Vegetarian community in Tokyo and we look forward to seeing you soon.
ps. we recommend reserving your place early as this is sure to be a busy event.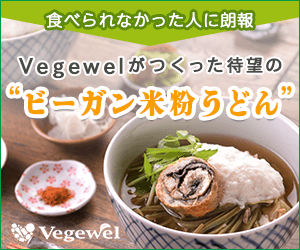 Registration
Please visit Tokyo Vegetarian Meetup group.
https://www.meetup.com/ja-JP/Tokyo-Vegetarian-Meetup/events/237695575/
話題のベジ・ヴィーガン食品
ニュータッチ T's NOODLE 担担麺 67g×12個
ニュータッチ
価格  

¥ 2,333

販売者 Amazon.co.jp
VEGHEET(ベジート) carrot(にんじん) 10枚入り 野菜シート
VEGHEET
価格  

¥ 1,580

販売者 VEGHEET STORE
Newsletter
Vegewel Style regularly delivers information on healthy food in Japan by email. You can register for free with just your email address, so why not just do it?