Speaking of your favorite food, you might come up with curry, right? I totally agree.
Searching curry shop would be a better choice for vegan food.
In particular, vegan food matches curry well. But as you might think, it's hard to find out a true and tasty vegan curry in Tokyo.
This time Vegewel recommends 10 vegan curry as follows:
A notable vegan restaurant serves tasty vegan curry – AIN SOPH.JOURNEY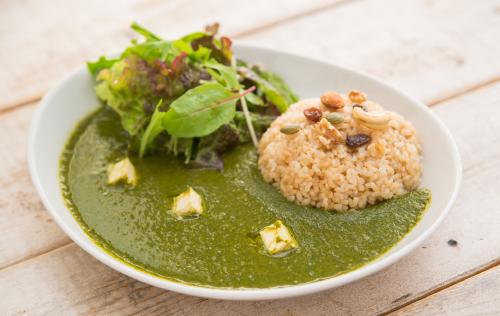 AINSOPH is a famous vegan restaurant in Tokyo which has 4 branches.
Incorporating trends and having different characters on each branch, AINSOPH has become one of the most famous veggie restaurant.
Especially, AIN SOPH.JOURNEY, which is located in Shinjuku 3 chome which is known for its ethnic theme.
They have Green curry for (1,400 JPY), which has a vegetable's flavor with a mild taste.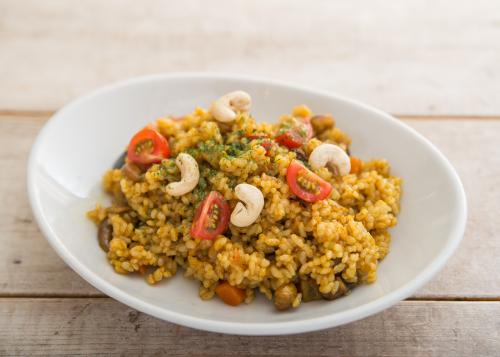 What about spicy dried curry with nuts for(1,300JPY)? Because of it's crispy texture, you might get captivated of it.
The restaurant info is AIN SOPH.JOURNEY
Specialty Indian curry Sasaya cafe at Oshiage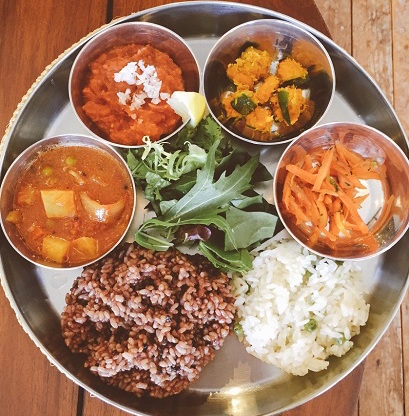 Sasaya cafe is located in Oshiage (near SkyTree) which has a noteworthy menu. The curry had been conducted a lot of trial-and-error.
The Indian combination mini meals for (1242JPY) is recommendable for lunch.
The restaurant info is Sasaya cafe
Eye-Catching Curry From A & E cafe at Nishi-Nippori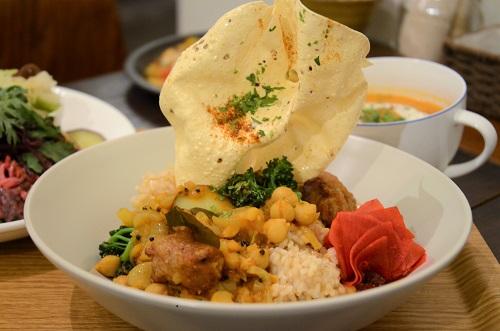 From A & E Cafe in Nishi-Nippori (near Ueno), serves eye-catching curry like this.
Combining vegetable essence and spice, the taste is really unstoppable. With such volume, you'll be satisfied. The Curry dish is 1,300JPY.
The restaurant info is
From A & E Cafe
Meticulous curry T's restaurant at Jiyugaoka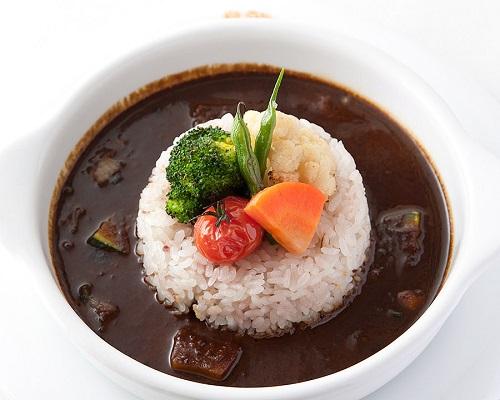 The restaurant's chef did a lot of improvement until his satisfaction. This is good for a veggie lover.
I assure T's veggie curry for (1,350JPY) will grab your heart and stomach. Not only of its veggie flavor but also of its full body that will you feel you're eating the best curry in the world.
Even if you aren't a curry lover, you won't be disappointed of its taste.
The restaurant info is
T's restaurant
Soy meat curry at DancecubeCafe at Kachidoki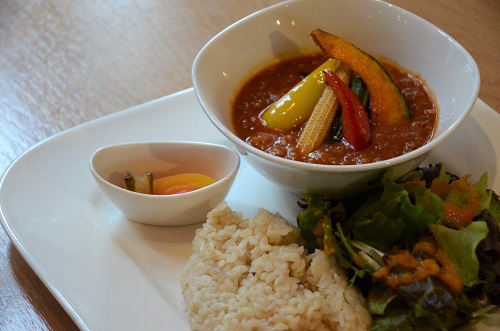 How do you feel when you eat meat? Fatty, oily and the heavy taste must knock you down.
In that case, we strongly recommend this soy meat curry with ripe tomato for (1,200JPY).
The plate includes salad and pickles that keeps a good nutritional balance. So give it a try.
The restaurant info is
DancecubeCafe
How's handmade wild yeast bread with curry? Cafe Mugiwarai at Minowa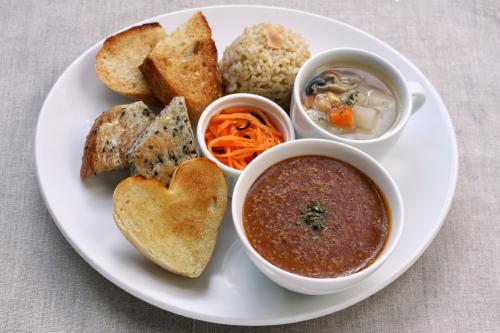 Minowa is a bit far from Ueno and Asakusa area. Nonetheless, there are many people come at this cafe just because of this curry.
Cafe Mugiwarai serves this set of curry, which named "Tomato and foxtail millet Curry plate" for (1,200JPY), including brown rice, 3 pieces of toast and salt and a veggie soup. These dishes produce good harmony in this plate. Check this link.
They have chickpea curry plate and wild yeast coconuts curry as well.
The restaurant info is
Cafe Mugiwarai
Wanna learn how to cook veggie curry? Cafe Amrita at Oshiage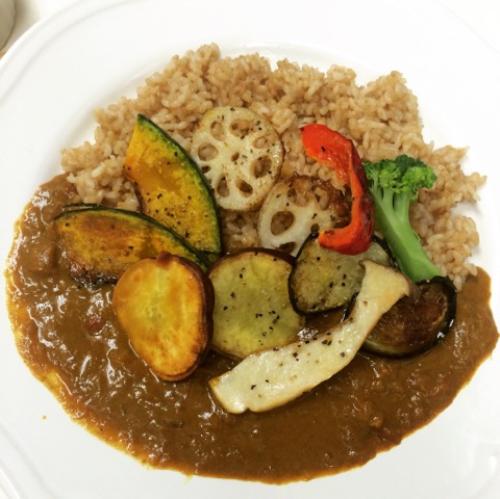 If you wanna visit Tokyo Skytree, you'd be better off going to Cafe Amrita.
They have a lot of fancy vegan food, and also Veggie Curry which contains full of vegetables.
Sauteed vegetable makes colorful look in the dish. It's just 1,000JPY. Don't you think it's reasonable?
This cafe is holding a vegetable curry lessons non-periodically. Ask them if you like.
The restaurant info is
Cafe Amrita
With healing cafe, you can eat simple spice and selected veggie curry at Vegebon at Komazawa Daigaku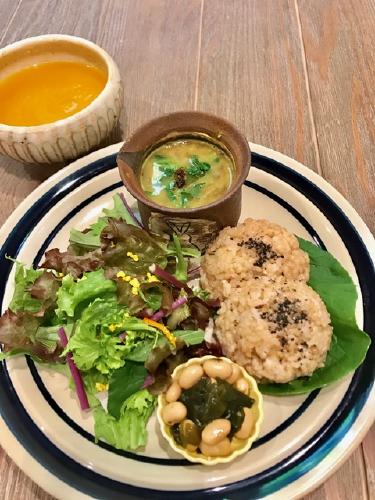 How's healing cafe? Greens and flowers are inside the cafe. Komazawa Vegebon is the one you might look for.
Today's Curry plate for (1,200JPY) is made by daily special by the food owner, Yumiko.
The plate features gluten-free and organic vegetables and also you can taste the brown rice Yumiko cooks.
You can also relax in this atmosphere because it feels like you are home. How about dropping by at this restaurant?
The restaurant info is
Vegebon
話題のベジ・ヴィーガン食品
ニュータッチ T's NOODLE 担担麺 67g×12個
ニュータッチ
価格  

¥ 2,333

販売者 Amazon.co.jp
VEGHEET(ベジート) carrot(にんじん) 10枚入り 野菜シート
VEGHEET
価格  

¥ 1,400

販売者 グッドスピードストア
Vegetable Curry made by the owner who had been training in South India – Spicebox, at Kanda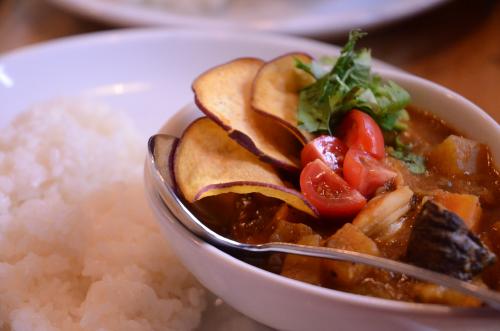 Do you know what 'Dal' is? The definition is like this.
"dozens of varieties of dried split peas, beans, lentils and other pulses"
The restaurant owner learned how to cook curry in South India.
In this restaurant, you can eat a wide variety of curry, including vegan curry.
If you're vegan, Vegewel recommends Vegetable and Dal Curry for (980JPY).
Since this restaurant serves various type of curry, whether you're vegetarian or not, you'll surely enjoy the meal.
Why don't you go and eat there?
The restaurant info is
Spicebox